Mumbai • Nasik • Aurangabad • Ellora Caves • Ajanta Caves • Kolhapur • Goa • Sindhudurg • Mumbai
Day 1 - Friday - Mumbai
Arrive Mumbai. A representative from Exotic Journeys India, will meet you at the arrival lounge of the airport and transfer you to the hotel. Mumbai (Bombay) is the commercial capital of India with multiple facets. The city hums with activity and its several million residents seem to be constantly on the move. The original island of Bombay is only 24 kilometers (15 miles) long and some four kilometers (2.5 miles) wide at its broadest point. Modem skyscrapers and gracious colonial buildings, Mosques, Churches and temples are medley of contradictions that makes Mumbai a representative city of India.

Overnight at :
Taj Mahal, Mumbai.
The Oberoi, Mumbai

Day 2 - Saturday - Mumbai
Morning boat excursion to Elephanta Island.

Elephanta Island Cave Temples: About an hour away by motorboat from the Gateway is a cave-temple shrine hewn out of solid rock between 757 A.D. and 973 A.D. The Portuguese named the island after the large stone elephant that guarded it. The elephant has since been shifted to the Mumbai Zoo. The caves represent what are probably the last examples of the golden age of art that flourished during the Gupta period. The Shiva Temple

Transfer to Railway station.
Check into Deccan Odyssey. Depart at 440 PM. Dinner and overnight stay on board the train.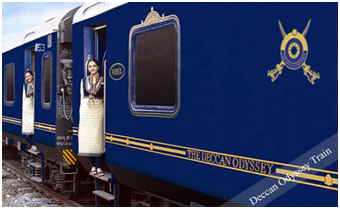 Day 3 - Sunday - Nashik

After breakfast on board, visit the sacred Godavari ghats and the local bazaar.

Continue on to Grover Zampa vineyards, which is one of the finest wine producing facilities In Nashik. The facility has numerous vineyards of Chenin, Shiraz grapes and Chardonnay. Explore these vineyards and watch how they make use of traditional methods to make some of the best wines in the country.

Lunch will be arranged at the vineyard with these exotic wines. Return to Deccan Odyssey and depart for Aurangabad.

Dinner and overnight stay on board the train.

Day 4 - Monday - Nashik - Aurangabad - Ellora Caves

One of the most historic towns in the state of Maharashtra, Aurangabad is named after Aurangzeb, the last great Mughal emperor, who built several notable monuments here.

Popular ones are the Daulatabad Fort and Bibi Ka Maqbara, which are one of the finest examples of Mughal architecture.

After breakfast, you will visit the ancient Ellora Caves. This world heritage site is an epitome of Indian rock-cut architecture, and is highly renowned for its monumental Buddhist, Hindu and Jain rock-cut shrines. Amongst the most prominent is the Kailash Temple, which strikingly resembles to Lord Shiva's abode on Mt. Kailash.

Return to Deccan Odyssey for lunch. Evenings would be spent, enjoying cocktails at the on board bar, while you head to Jalgaon to visit the popular Ajanta caves.

Dinner and overnight stay on board the train.
Day 5 - Tuesday - Aurangabad- Jalgaon - Ajanta Caves
After having your breakfast on board, you will visit Ajanta Cave, another UNESCO world heritage site.

The unique architectural marvel of the 2nd century BC, Ajanta Caves are a group of 30 Buddhist monuments which are globally renowned for adorning Buddhist sculptures and paintings.

Return to Deccan Odyssey for lunch and leisure. Depart for Kohlapur.

Dinner and overnight stay on board the train.
Day 6 - Wednesday - Jalgaon – Kohlapur
Breakfast on board. Deccan Odyssey would be heading to its next stop, Kolhapur. After an early lunch, embark on a city tour. Visit the New Palace Museum a magnificent structure of basalt and sandstone, the museum is a perfect reminiscent of the bygone rulers of Kolhapur, the Town Hall Museum, which is a neo-gothic structure of the 19th century. The museum houses historic remains of the Satavahana period of Indian history. Kolhapur is widely famous for its handicraft and footwears.

Afternoon tea is served at a venue which will be accompanied by a vibrant cultural folk show, Lavanya Sandhya.

Iin the evening, visit the thousand year old Mahalakshmi Temple, dedicated to Hindu Goddess Lakshmi.

Dinner and overnight stay on board the train.
Day 7 - Thursday - Goa
Goa was once under the rule of the Portugese and still possesses their influences. After breakfast on board, you will visit the Latin quarters of Panjim, known as Fontainhas.

Explore the culture and architecture of the Portuguese with UNESCO World Heritage Walk around Fontainhas. Thereafter, leave for Ribandar, the erstwhile capital of Goa. Take a walk through ancient churches and the ruins of the St. Augustine tower.

Visit the Sahakari Spice plantation for a traditional Goanese lunch with a folk performance.
Dinner on board.Overnight on Deccan Odyssey.
Day 8 - Friday - Sindhudurg
Alight at the Sindhudurg Nagari Railway station.
Visit a local weekly market at Katta Village, Sindhudurg Fort, built in in 1664-67 and the Malvan town.

Proceed to Tarkarli beach resort for lunch. In the evening depart to Dhamapur village by AC bus. On the way visit a Cashew factory. At Dhamapur visit ancient temple of Goddess Bhagawati and Bharadi Devi situated on banks of beautiful lake.
Dinner and overnight stay on board..

Day 9 - Saturday - Mumbai
Breakfast on board.

Bid farewell to the Maharashtra Splendor onboard the Deccan Odyssey luxury train. Disembark the train at at 815 AM.
Meeting and transfer to Airport.
Depart on your onward journey.




•••••

Departure Dates - 2017

January

-
-
-
-
-

February

-
-
-
-
-

March

-
-
17
-
-

April

-
14
-
28
-

September

-
-
-
22
29

October

-
-
-
-
-

November

3
-
-
24
-

December

-
-
-
22
29
Departure Dates - 2018

January

-
-
19
-

February

-
9
-
23
-

March

-
-
16
-
-

April

-
13
-
27
-

September

-
-
21
-

October

-
-
-
-

November

-
-
-
-
-

December

-
-
-
-
Deluxe Cabin
Prices: US$
Per Person
Single Occupancy
$ 6510.00
Double Occupancy
$ 4795.00
Presidential Suite - Per Person
Single Occupancy
$ 13580.00
Double Occupancy
$ 7360.00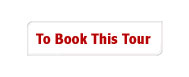 Sample discounted airfares from New York, Newark, Chicago and san Francisco.
Business Class - From $ 3290.00
Sample International airfares:
Economy Class: From $ 800.00

Call for current airfare.
Airport Security fee, fuel surcharges and taxes not included.
Land Prices are guaranteed at the time of booking. Airfares are guaranteed only when ticketed. International airfares from other cities are also available upon request.