______________________________________________________________________________________________________________________
Coronavirus (Covid 19) Safety Protocols:
This tour, as well as our other tours on our website/s and brochures, will operate only by fully vaccinated personnel. Our drivers, guides, tour managers and others in our employment and / or contracts are in full compliance with the local authorities' guidelines and requirements.
For the clients' safety, we will operate each tour with limited number of participants. All safety protocols will be strictly followed. All participants will be required to produce proof of full vaccinations at the time of booking on any of our trips and also while travelling with us.
Please visit CDC, WHO, John Hopkins university & Medicine and foreign Government sites for current information. Here are few sites that may be helpful in your post Covid 19 travel plans.
https://coronavirus.jhu.edu/map.html
https://www.cdc.gov/coronavirus/2019-ncov/travelers/index.html
https://www.cdc.gov/coronavirus/2019-ncov/index.html
https://covid19.who.int/

The above information is current & remains subject to change. Travelers please SIGN UP here and remain informed. Contact us if we could be of assistance.
______________________________________________________________________________________________________________________
In Search of Jewish Story in China: 15 Days - Exotic Journeys

Beijing • Harbin • Beijing • Dunhuang (Gobi Desert) • Kaifeng • Luoyang • Shanghai
Join us on a unique journey through six cities and 2,000-year history of Jewish life in China. Did you know that there are two Jewish stories in China: the Jews in China and the Jews of China? What do the most anti-Semitic of Russian Tsars, a railroad, a Chinese fishing village, and Russian-Yiddish culture have in common? Would you like to learn the secrets of the Gobi Desert and the Silk Road leading to the discovery of the oldest existing Jewish prayer? Join us on this unforgettable trip.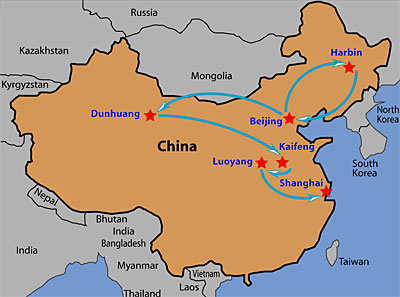 Itinerary Designed historian Irene Shaland.
Experience the best of historical and contemporary China with an expert-designed unique itinerary
Travel with an intimate small group of like-minded travellers
See parts of the country not covered by most group tours
Become an explorer and historical sleuth when searching for Jewish stories in China
Gain a deeper understanding of the global Jewish identity
Meet with people who trace their Jewish ancestry to the first Jewish settlers from the 11th century
Tour Operates with two people travelling together. Groups of 12 couples (24 participants) will be escorted witout any extra cost)
DAY 1: Sunday - Departure.
Depart independently for Beijing, China.
DAY 2: Monday - Beijing
Arrive in Beijing. A repesentative from Exotic Journeys will meet, assist and transfer you to your hotel. Balance of the day at leisure.
Overnight:
Crowne Plaza Beijing Hotel or similar deluxe hotel.
DAY 3: Tuesday - Beijing/Harbin (B, L)
Breakfast at the hotel. Transfer to airport. Fly to Harbin.
City tour in the afternoon "Discovering Russian-Yiddish Culture of Harbin: A unique page in Chinese history"
Overnight:
Historic Modern Hotel, Harbin / JW Marriot, Harbin or similar deluxe hotel,
DAY 4: Wednesday - Harbin (B, L)
Breakfast at the hotel.
Continue exploration of Jewish history in Harbin and Harbin-Russian connections..
Visit the Church of St. Sofia Museum of Harbin: the architecture was strongly influenced by European Jews' tastes
Stroll the streets lined with European- style buildings
Visit to Harbin Jewish Research Center for conversation with local historians. (subject to avalibility)
Learn the stories of old Harbin: fishing village turned "City of Music;" persecution of Jews by the Russian Fascist Party and life under Japanese occupation in the 1930s; kidnapping and murder of Simeon Kaspe, a world-renowned young pianist; and many others stories
Visit one of the largest and best preserved Jewish cemeteries in Asia with its 600-plus graves
Lunch at local restaurant
Visit the beautiful Stalin Park, an evidence of the close relationship between two communist powers, then see the Flood Monument built to commemorate the effort of Harbin to control massive disastrous floods
Dinner on your own: restaurant will be recommended by local guide who will assist you in ordering your dinner.
Overnight :
Jewish Historic Modern Hotel, Harbin / Shangri-la La Hotel, Harbin
DAY 5: Thursday - Harbin/Beijing (B/L)
Breakfast at the hotel.
Transfer to airport for flying to Beijing. Upon arrival, transfer to local restaurant for lunch
Afternoon tour: Temples of Beijing – Spiritual foundations of Chinese civilization
Learn about Taoism, Confucianism, and Chinese Tibetan-style Buddhism when visiting:
Most important Taoist Temple in the World (8th cent)– philosophy and architecture of Taoism; Taoist cosmos
Major Confucian Temple (1302) - Confucianism: religion, way of life, or philosophy of government?
Tibetan Lama Temple – understanding Chinese Buddhism
Overnight :
Crowne Plaza Beijing Hotel
DAY 6: Friday : Beijing (B, L)
Breakfast at the hotel.
Visit of Temple of Heaven (1533) – Not a temple in the traditional sense but rather a Confucian park and a vast stage for rituals performed by the Emperor-
Lunch at local restaurant
Visit of Forbidden City where we continue exploration of Imperial China from the Ming Dynasty (1368-1644) to the last Emperor (1911)
Subject to availability: meet a nephew of the last Emperor, a calligraphy expert
Meet Jewish Beijing of today and learn about Kehillat Beijing - a lay-led Jewish community formed in 1979
Attend Sabbath service and dinner there (paid on your own 140 RMB or $30.00 per person)
Overnight :
Crowne Plaza Beijing Hotel
DAY 7: Saturday -Beijing (B)
Breakfast at the hotel.
Day free.
DAY 8: Sunday -Beijing / Dunhuang (B)
Transfer to airport. Fly to Dunhuang via Xi'an.
(The flight will stop at Xi'an airport where you can have a lunch on your own). Change planes for Dunhuang.
Upon arrival, transfer to hotel for rest.
Dinner on your own with the help of your local guide: Dunhuang hotel is located in downtown Dunhuang: 2 minute walk from hotel to Local Night Market (famous Food Street)
Overnight :
Silk Road Dunhuang / Grand Soluxe Hotel
DAY 9: Monday - Dunhuang (B/L)
Breakfast at the hotel.
Exploring the Silk Road
Understanding the Silk Road and its origins, both in trade and in geography: this road used to extend from Europe through Egypt, to Somalia and the Arabian Peninsula, Iran, Afghanistan, and Central Asia to Sri Lanka, Pakistan, India, Bangladesh, Burma, Java-Indonesia, and Vietnam until it reached China.
Why? What were the commercial drivers for this phenomenon?
What were the cultural outcomes? How do the Jews come into this story?
You will learn all this and much more during our tour of Dunhuang and nearby points of interest.
Visit of Singing Sand Mountain and Crescent Lake
Lunch at local restaurant
In the afternoon: Visit of Dunhuang Grottoes, the best collection of Buddhist art in the world, and Grottoes Research Center
Dinner on your own: restaurant will be recommended by local guide who will assist you in ordering your dinner
Overnight :
Silk Road Dunhuang Hotel / Grand Soluxe
DAY 10: Tuesday - Dunhuang / Xi'an / Zhengzhou / Kaifeng (B)
Breakfast at the hotel.
Transfer to airport. Fly to Xi'an. Lunch at the Xi'an airport on your own. Change planes for Zhengzhou.
Trip from Zhengzhou to Kaifeng in a comfortable tour bus.
Arrival to Century Grand Hotel in Kaifeng for rest.
Dinner on your own: restaurant will be recommended by local guide who will assist you in ordering your dinner
Overnight :
New Century Grand Hotel Kaifeng
DAY 11 : Wednesday - Kaifeng/ Luoyang (B/L)
Breakfast at the hotel.
Exploring Kaifeng:
Kaifeng served seven dynasties as a capital and became one of the world's largest cities during the Northern Song dynasty (10th to 13th century). This is when the Jewish merchants, mostly from India, came to Kaifeng and established it as one of the thriving centers of Jewish culture. They built the Great Synagogue in 1163.
Today, Kaifeng is a must for Jewish history pilgrims. However, to learn about the Jews of China you will not find any guidebook to provide you with a ready-made itinerary. You have to come to Kaifeng to find and meet them, and listen to their stories.
Meet Esther, a Kaifeng Jew, whose family was charged with "facility management' of the great Synagogue for almost 800 years
Visit of Esther's house in the historic Jewish neighborhood and museum she established
Be treated to a quick kosher lunch while listening to Esther's stories
Visit the Kaifeng Museum to see ancient stone stellaes that used to stand by the Synagogue – learn the stories told by stones
The Story of Mr. Jin and His Family Tomb
Meet Mr. Jin and learn the story of his family going back to the 11th century
Visit the oldest Jewish cemetery in China and Mr. Jin's memorial to his ancestors
Driving to Luoyang in the late afternoon. Upon arrival, transfer to hotel for rest.
Overnight: Mudu-Lee Royal Hotel
DAY 12: Thursday - Luoyang/Shanghai (B/L/D)
Breakfast at the hotel.
Exploring Luoyang:
Luoyang is one of China's greatest ancient capitals since the Zhou Dynasty (770 BC) and an important stop on the Silk Road. Some historians consider Luoyang the earliest of Jewish permanent settlements in China. Learn about Palmyrian style Hebrew and how it proves that the Jews were already established in Luoyang in the 3rd century AD.
See the Luoyang ancient city walls
Visit the Longmen Grottoes, another great site on the Silk Road with exceptional Buddhist sculptures
Tour the Luoyang Museum and see its great collection of Chinese art
Discover the proof of Jewish presence expressed in art going back to the Tang dynasty (6-7th century AD.)
Lunch and dinner at local restaurants included
In the evening, we will fly to Shanghai. Upon arrival, transfer to hotel for rest.
Overnight :
Seagull Hotel on the Bund / The Jinjiang Hotel
DAY 13 : Friday & Day 14 : Saturday - Shanghai (both days: B / L)
Breakfast at the hotel.
Our two days in Shanghai are dedicated to both the extensive exploration of Jewish stories and immersion into this great city with no illustrious past but with a fascinating present and brilliant future.
Part I: Jewish Shanghai

Highlights include:
Learn about the three waves of Jewish immigration to Shanghai and the way the Jews of Europe influence Chinese medicine, music, and culture in general; a story of Shanghai as a safe haven during the Holocaust
Visit the former Ohel Rachel Synagogue, one of the first places of warship built by the illustrious Baghdadi community
Explore the Shanghai Jewish Refugee Museum
Visit the former Shanghai Ghetto and see the Memorial to refugees in Huoshan park
See Russian Jewish Clubs, headquarters of the Zionist movement and music centers
Visit (outside) Jewish Hospitals and learn about the influence of the European Jews on the development of Chinese modern medicine
See the splendor of the palaces built by rich Jewish businessmen and philanthropists as their residences
Part II: Modern Shanghai- China's most dynamic and energetic city
Highlights include:
Walk the Bund, Shanghai's most popular promenade
Visit Nanshi Old City and French Concession
Explore Jade Buddha temple
Walk through Yuyuan bazaar and People's Square
Visit Zhujiajiao, a traditional water village (time permitting) and take a ride through its main canal on a sampa, a traditional wooden boat
Overnight: Seagull on the Bund Hotel / Jinjiang Hotel
DAY 15 : Sunday - Shanghai- Departure (B)
Breakfast at the hotel.
Transfer to airport.
Depart independently on your onward journey.