They who travel with us, speak for us

Riz - - The trip to India was just perfect: great accommodations, wonderful guides, special services and attention everywhere. The people in charge of our adventure - - your manager in Delhi, the guides in each city, and the driver (Mustafa) between cities made the journey an exceptional experience for us each and every day. Your company did an outstanding job of working out a perfect itinerary in under two weeks!!!!
India is just a sensory overload!!! This is my third time in your country and each trip seems better than the last. I certainly plan to go again if at all possible. The sounds, sights, tastes and smells are so wonderfully foreign to our American senses. We loved every minute of our travels through the countryside and in each of the cities we visited. And, to make for a spectacular day - - -we even got to see the gorgeous tigers at Ranthambhore!!!!
Thanks for all your help in putting this together for us. Kudos to your team in India!!!

Nell McInnish,
Andavo Travel,
Montgomery, AL 36106
nell.mcinnish@andavotravel.com
April 20, 2018

__________________________________________________________
Mike McCleskey <ooooooo@earthlink.net> wrote:
(on a tours of Egypt, Jordan and India)
Good afternoon, Raju.
Now, these were the trips!
We've been to Israel, China, Australia, Thailand, Cambodia and the Philippines.
This year we went to India, Egypt and Jordan arranged by Exotic Journeys.
Both trips were excellent.
Exotic Journeys arranged for private luxury tours (my wife and I plus a guide and a driver).
Believe me this is a far superior way to travel.
And the cost to us was roughly half of some nationally-advertised tours we have read about!

We had opportunities to develop relationships with our guides and drivers such that we received a much better understanding of their culture.
On just a few occasions, something went awry, such as traffic delaying our travels, but the guides were able to make adjustments on the fly.

I had been wanting to see the Pyramids and temples since I was about 12 years old. That has been more than 50 years.
We had asked Exotic Journeys to include things "to do" not just things "to see."
How does crawling down the tunnel into the burial chamber at the Unfinished Pyramid at Meidom strike you?
Or, a hot air balloon ride over the Valley of the Queens?
Or, ascending to the top of Mt. Sinai?
Or, a guide that was able to read, not just explain, hieroglyphs?
Even with very high expectations, we were very impressed and often amazed by the arrangements made by Exotic Journeys.

Exotic Journeys planned a private tour to Jordan for us.
Each site was one pleasant surprise after another.
We saw the ancient Roman city of Antioch in Jerash.
We floated in the Dead Sea.
We visited Mt. Nibo, where Moses saw the Promised Land but could not enter.
We visited Petra. We toured the Wadi Rum in a 4-wheel drive vehicle (Wadi Rum is the desert that
Lawrence of Arabia crossed to attack Aqaba) and we were guests of a Bedouin family for tea.

Then we ended our tour with three days in Sharm el Sheikh, an amazing tourist resort town on the southern tip of the Sinai Peninsula and the Red Sea.
Some of our friends questioned our decision to travel to Egypt and Jordan in these troubled times. But I must say that we never felt threatened. We always felt secure.
And the people we met were always courteous, friendly and warm.

Our thanks to Exotic Journeys and its agents around the world for providing exceptional service and enabling us to have these adventures of a lifetime.
Our trips would not have been as exciting nor would we have seen and done so much without your help.
Exotic Journeys will forever be our first choice when planning travel in the future.

Mike & Cheryl McCleskey,
Calabasas, CA
_____________________________________________________________________________
Dear Exotic Journeys,
Re: Everest Panorama- Trek to Everest Base Camp
Willy was most attentive, accomodating and punctual to our needs.
Vehicles and drivers were excellent.
Kathmandu hotel very good and sightseeing excellent.
Wonderful trek. Good amont of hiking time each day. Spectacular views.
Trekking guide, HIT, was the best.
Our porters, Deepa and Ahjun, were excellent, always polite, patience, and very helpful.
Great teamwork made a wonderful trip for us.
Would highly recommend.
Thanks
Natalie Bradford, Diana Paul and Michelle Masuda
Juneau, AK 99801
April 29, 2017
_________________________________________________________________________
Dear Amber and Sharon,
We are loving the trip! (Sikkim and Bhutan- 15 Days)
Thank you for arranging it. Local tours and guides are fabulous.
Highly recommend this itinerary for clients and friends.
Actually I think going to India before Bhutan is a better itinerary and I am glad that is what we have.
Best regards
Selma and Raymond Weisbein
Coral Gables, FL 33143
Wednesday, April 19, 2017 9:23 AM
Sent from my i Phone
______________________________________________________________
On Tuesday, March 21, 2017 2:27 PM, Ellen Premack <xxxxxxxxx@gmail.com> wrote:
Usha,
I am writing to tell you that the trip to Cuba was excellent, exciting and top notch.
Thanks to you and Irene for so much planning and accommodating the logistics!
It went off so well that I had to thank you immediately!!!
I do appreciate your hard work and just want to say thank you, thank you and more thank you!!
You are appreciated!!
Kindly, Ellen
Sent from my i Phone
______________________________________________________________
On Thursday, September 22, 2016 11:33 AM, Mike McCleskey <ooooooo@earthlink.net> wrote:
(on a tour of Greece and Turkey)
What a day!
The hotel is the Hagia Sophia Hotel (Istanbul). Hagia means "holy" and Sophia means "wisdom of God."
We are just a few meters from both the Blue Mosque and the Hagia Sophia Mosque.
Your guide arranged for us to have a Turkish bath a facility built in 1556 by Sultan Suleiman for his wife.
My attendant spoke perfect English and called be "Your Highness."
Cheryl's experience was similar in a separate set of rooms
. I have been made to feel as a sultan!
What an afternoon!
Thank you Exotic Journeys for a most memorable experience.
Cheryl and Mike McCleskey
Calabasas, CA 91301
________________________________________________________
Dear Exotic Journeys:
The country (India) is fabulous...may be the best trip of my life.

David Stern
Annapolis, MD 21403
________________________________________________________
Dear Raj,
I wanted to thank you for a very well organized trip to India in December 2013. Apart from a glitch at the Udaipur hotel (which was fixed rather quickly), everything went as smoothly as possible. It was a fascinating experience, which was enhanced by the fact that we went "off the beaten track" for a good part of the trip.

On a somewhat related note, I was also wondering if you could help me out with my upcoming trip to India in February. This is a business trip (to Kolkata), but on the way back I would like to spend some time in Varanasi, which was too complicated to do with my family in December.
Thanks.

Alex
--
Dr. Aleksandar I. Zecevic
Professor of Electrical Engineering
Associate Dean for Graduate Studies
Santa Clara University
Santa Clara, CA 95053
01.08.2014
____________________________________________________________________________
Dear Raj,
I wanted to let you know the feedback from our group.
We were very pleased with all of the services, hotels and the luxury train.
We loved the train staff. They catered to our every need and felt like family.
The train was for the most part well maintained.
The food was good and varied and the breakfasts were quite nice.
There were clients from many countries who shared our interest in India.
It was a very good way to see the country without lots of travelling internally.
The Taj and ITC Mughal hotels were both top rate.
The guides on our trip were very knowledgeable and accommodating.
We thoroughly enjoyed the stops, history and the weather was perfect.
Sorry to say there were no tigers on our day at the park.
Thank you for your work on our behalf and we will recommend you in the future.
Sincerely,
Janet Lampert Rhines
President Emerita, Windy City Travel/Foremost Travel
Chicago, IL
______________________________________________________________
Hello Raj and Usha Ahmed,
I want you to know that we had a very exciting trip to India. The hotels were great, really very high end, and the guides and drivers provided us with the ability to see a lot in a very short time. We could not be more pleased with the arrangements.
I want to say again that the guides helped make the trip very informative. They told us about their family life, their wife and their children, and about the politics of government. I definitely would do this trip again and have recommended it to a friend of ours.
I took more than 900 pictures which I have reduced to the best 300, the best 125, the best 35, and the best 5. I will publish a book of pictures with descriptions of what we saw.
Thanks again for making this trip possible.
Regards,
Joel Winett (and Ruth too)
Framingham, Massachusetts, USA
12.23. 2013
____________________________________________________________________________
Hello all!
It was such a fantastic vacation, we so enjoyed having Usha with us. You all deserve great praise for a job well done. Great hotels, new food taste treats and amazing sights to behold. Thank you so much for this opportunity to travel.
I must add that Raju did an absolutely perfect job with our trip: Departed Feb3, 2013 to Delhi, overnight at the Oberois, then two nights each in Kathmandu, Varanasi and Khajuraho........all great connections, and we were met by local guides at the airports, hotels were very good----and the best food was in Kathmandu---Russian and Continental Cuisine---we had (NOT all at once, of course) Swiss Fondue, smoked salmon, French Onion soup, prosciutto and melon, and Lobster Thermidor at the restaurant attached to the Hotel Yak and Yeti (seriously, that is the name). Then we met up with the "rest of the group"----I think Mark and I did fine with some occasionally cranky travelers.
Many thanks,
Bernice and Mark Scott
Stratford, CT
____________________________________________________________________________
Raju, thanks for the information, and happy holidays to you as well! .
I actually sent you an e-mail from India, which perhaps you did not see I must tell you that the trip was absolutely spectacular, and truly the trip of a lifetime If I could do it over again tomorrow, I would without hesitation.
My guides were excellent, and I especially enjoyed Janesh in Delhi My driver, Rakesh, was outstanding, and I enjoyed his company I felt like we were old friends by the end of the trip, and we had tea together before he dropped me at the airport The hotels, the service, the way everything was coordinated, could not have been any better Many thanks for a truly wonderful experience Also, the Oberois were simply indescribable, and I have never had better service at any hotel I have stayed in throughout the world.
I just sent you the e-mail I sent back on November 7th, so you could see my thoughts at the time.
Again, many thanks.

Regards,
Andrew
Andrew Rosenzweig
Scottsdale, AZ 85259
____________________________________________________________________________
Irene and Alex Shaland, Cleveland, Ohio
editor@globaltravelauthors.com
shaland@sbcglobal.net

Itinerary: Delhi-Varanasi-Khajuraho-Agra-Jaipur-Udaipur-Aurangabad-Cochin-Mumbai
Time frame: 13 days
This note is to express our deepest gratitude to Exotic Journeys and, especially, Mr. Raj: your ability to listen and understand, your professionalism and patience are truly unequal in the industry.
In our lifetime of travel around the world, never was an itinerary so intense in a country so vast was organized so brilliantly. We mentally prepared ourselves to "Indian" time, plane delays, monuments closing - but everything worked as if on a military schedule. I imagined Mr. Raj as a Maharaja of Tours sitting in his Chicago office and directing the winds and rains, plains and trains of India to meet our super-tight schedule. We never lost a minute but gained the universe filled with beauty and smiles, sophistication and uninterrupted thousands-year-old traditions – the civilization of India.
We want to make sure we give our special thanks to Mr. Sandeep Sharma, General Manager of the Heritage Journeys in Delhi, Exotic Journeys' partner, who –as we felt – became our attentive friend, following our progress throughout the country and making sure that very day was nothing less than perfect.

(Irene Shaland is a free-lance art and travel writer)
http://globaltravelauthors.com/
____________________________________________________________________________
Dear Raju,

Our travel experience with EXOTIC JOURNEYS was EXCELLENT from start to finish. We had a wonderful time, and your arrangements were all just what we wanted. Each of our tour guides, and each of our drivers, was great, and each of the agents who met us at the various airports and arranged for the various cities was excellent also.

The trouble with the cancellation of the KINGFISHER AIRLINES flight was, of course far beyond anything that you could affect. Luckily for us, we were able to arrange an alternate flight, and the very fine work of your local agent was a great help in that regard. His name was GIREESH.

If we had one criticism, it was that the hotel in VARANASI was not as nice as the others we stayed in -- - however, we did understand how difficult it was for you to arrange a hotel in that city, so it was not a problem.

THANK YOU VERY MUCH.

With warm regards,

ROBERT BUDNITZ
Berkley, CA 94720
____________________________________________________________________________
Hi Raju,

Thanks for the great itinerary. All went well in India, and my friends and I enjoyed all the sites. Also, Gian is a wonderful, reliable driver.

Many thanks!
Taylor
Taylor Marcus
Palm Beach Gardens, FL 33418
____________________________________________________________________________
Raju,

We're back! We had a wonderful trip! Thank you for all your work involved in making our Egypt experience a memorable one! You have great people in Egypt (but you know that!) who really made us feel welcome, safe and accommodated us at every turn. They too, have really good people working for them in the way of guides and drivers.

We saw and did soooo much more than we ever could have on our own. It was a bit strange for us 'ole seasoned travelers to have someone there at every turn, but considering where we were, it was the only way to go! We could never have done and seen all we did in the time we had without them! Good people!

Both Kristofer and Hanna really enjoyed the trip and they learned a lot. Both of them enjoy history so this was a great "being there" school field trip.

I have lots of pictures! If you need anything please let me know. I'll be sending you some in the near future, once I get "back-in-the-saddle".
I'll give you a call sometime next week. Many thanks from all of us!

We are soon ready to plan for India and Nepal!

Mike, Lena, Kristofer & Hanna

Michael Klondaris
151 South High Street
Warsaw, IN 46580



Raju, a quick note to let you know your agents here have been great. Sweety has been exceptionally great. Her knowledge of history and her knowledge of where to get the best photos has been wonderful.
Dan
Daniel L. Dardanelli
Campbell, CA 95008
Dear Raj,
Got back from Korea yesterday. It was a good trip and everything went smoothly, except for the long layovers in Japan. China Airways really let us down.
James took good care of us. The hotels were good and his guides took us to interesting and delicious places for lunch. The guide we had in Seoul, Sarah Kim, was excellent. And Mr. Hong who had us for four days was especially good. And Ms. Kim who took care of us in the South, was good.
We really enjoyed the couple from Chicago who traveled with us. She, especially, was delightful.
Best,
Ed & Ann Stalcup
Malibu, CA 90265 - 5141
Hi Steve,
Marvelous trip!
Perfect organization, all guides, car drivers, etc were always on time, very helpful and very professional. Hotels were top of the line.
I will strongly recommend Exotic Journeys.
Thank you for your help.
Paul.
Steve Kuriga
Travel Specialist/Tour Director
Travel Dynamics Group
7590 Fay Avenue, Suite 204
La Jolla, CA 92037
Hi Raj,

Mr and Mrs Marinelli had a wonderful time in India.
Everything went smoothly and on time. They liked the hotels,guides and the driver. For their next visit I suggested Kerala as next year they may visit Bangalore.

Thank you very much for planning a wonderful itinerary and all arrangements for my clients.
We all like happy and satisfied clients and I thank you for your effort and time.

Regards

Sunita Ruparel

Sunita Travel
Powell, OH 43065

Raj,
We got back from our adventure yesterday evening.
Thanks so much for arranging everything. We could not have been more pleased. Tarek in Egypt took amazing care of us -- complete with lots of little "extras" for us honeymooners like fresh flowers and cakes. He was amazing and we feel that you were, too, setting it all up for us.
Thanks again and I look forward to setting up a trip to India with you in the next few years.
With gratitude,
Alysa and Alessandro Fabbr

i"
Hi Raj,
Thank you for arranging such a perfect trip. The Palace on Wheels was a nice way to travel. The tours were interesting and well organized, each day was better than the preceding day. Tiger Tops was a good way to end our trip. We especially enjoyed the elephant safaris.
Also, Willie in Katmandu and Eftkhar in Delhi were outstanding in their effeciency and friendliness. They made us feel welcome .
Thanks again
Sincerely,
Marilyn Fisher
EVA TRAVEL (part of Travel Experts)
Mt Kisco, NY
Dear Mr. Raj,
Thank you once again for the arrangements for our trip to India and Nepal. The journey was really incredible and all of us are very happy that we were able to see all these marvels of India and Nepal. Our daughters were enchanted since it was their first trip to India. I and my wife could enjoy our trip even more than during the first time travel in 2003 since we knew what to expect and in general the accomodations were better then previously (even in the same hotels). Thank you again.


With best regards
Marek Kaminski, M.D.,Ph.D.
Dear Raj,
Our trip to India, thanks to you and Avinash Anand was a dream. The hotels were great, Kingfisher Airlines is brilliant and we were met and guided everywhere with punctuality, skill and kindness. What a wonderful trip. We hope it will be the first of several.
I am now taking a course in Hinduism at New School University to learn more about this incredible culture. I did buy Indian music in India and am having a wonderful time listening to Zakir Hussain, Pandit Hariprasad Chaurasia, Kayhan Kalhor and Shujaat Husain Khan, Nusrat Fateh Ali Khan, and Ravi Shankar, of course, among others.
Having dinner with Mr. Anand and Bushra, with some of your extremely interesting friends on the night of Republic Day was a highlight of our trip. They were so welcoming and so cosmopolitan, and, of course, the food was delicious, and not, as Avinash pointed out, flavored with restaurant type masala.
With warm regards,
Peggy Gold
New York
John and I arrived home from our trip last evening. We had a wonderful time and want to thank you for the excellent services.
I particularly want to single out a few of the executives and drivers for commendation. In Delhi Mr. Khan was very helpful and it was there we met our excellent driver, Sanjay Sharmer (I think that's the way to spell his last name) and his helper, Harry, who became our friends and companions throughout much of the trip. We felt very comfortable with them and they were always available to take us where we needed to go. In Mumbai, the guide, Douglas was really excellent. We were tired and almost wanted to stay in the hotel that day to catch up on our sleep for the long trip home. I'm very glad we didn't because Douglas made our trip. We were also lucky to arrive in Mumbai (at 2:30 am) in time to see some of the Ganesh festival. They were just closing down on their final night.
All the hotel accommodations were of a high caliber and we were quite satisfied.
Once again we thank you.
Sincerely
.......... Jane Andrich



I just wanted to say that I so much enjoyed the trip to India - all the locations were very interesting / hotels were very good. I had to get used to the spicy food but by the end of the trip I really liked it. Our tour guide - don't have the card at work - was so pleasant. My only suggestion is that perhaps you could cut some of the bus rides-instead perhaps fly instead - otherwise loved the trip. I would love to do southern India if you offer that sometime. Thanks again- Air India was very nice
.....Pat Dickey-Los Gatos Travel


Mandy and I really enjoyed the India trip. The itinerary was varied enough to give us a taste of the big city as well as the more rural areas. Some scheduling of the internal flights could be improved but overall the itinerary was well planned. Our favorite Taj hotel was the Taj Mahal. Varanasi was the most amazing place!
We now have a better understanding of your country and will be recommending Exotic Journeys to our clients.
Thanks for your help in arranging such a great Fam Trip.

Barry Holt
Skyline Travel


Thank you for arranging the tour for James and Jonathan Smith on such short notice. They had the best trip.
Many thanks
........Jim Smith


Had an unbelievably wonderful time. I had a great driver Suchandran from Exotic Journeys, every city had great tour guides, the accommodations were lovely especially the Hilton in Jaipur across from the Palace in the Lake, I bought a great rug there. All the hotels gave me great rooms in Agra facing the gardens in Jaipur facing the lake and in Delhi on the executive floor. My guide in Delhi has a son getting married next month in California I brought back his invitations for his wedding on my flight and I'll be attending his wedding. I've never been to an Indian wedding, I'm looking forward to it!

I will definitely recommend your tour to my colleagues and please let me know if your traveling to India on American Airlines I know people who fly it that can make your flight more enjoyable. Thanks again for doing it in such short notice.

..........Leslie Shea


Tina, Just back from India and wanted to say a huge thank you to you and your team for organizing a fab trip! Everything was amazing and I am totally in love with India;not withstanding the poverty of course. Everyone was charming and totally professional, The tour guides were amazing with their attention to detail and knowledge and the driver Suchu was patient and protective over us. A huge Thank you!

I will of course pass your details to my staff in Edinburgh for anyone else wishing to travel India; hopefully they will organize in plenty of time unlike me!!

........... Carolyn Sellars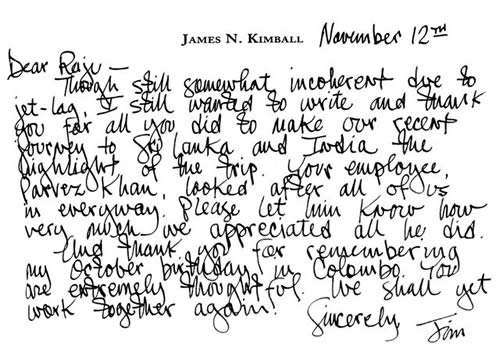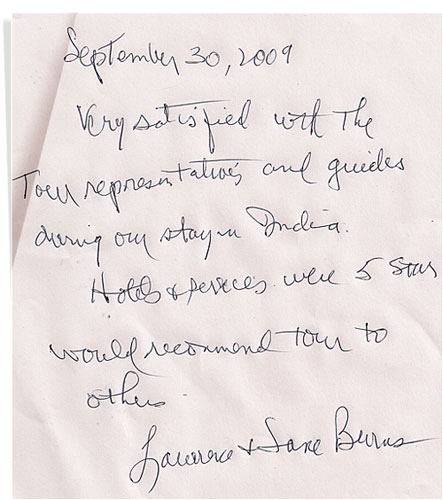 (Letter published in International Travel News)
We booked our tour through Raj at Exotic Journeys, Inc.
We combined our 15-day tour " Adventure in Nepal " with a 9-day " Palace On Wheels " plus three nights in Varanasi.
Everything ran like clockwork on the trip.
We could fault nothing.
Ann and Ed Stalcup,
Malibu, CA
(Letter published in International Travel News).

In 1988 Exotic Journeys, Inc., arranged an independent itinerary to India for my wife and me.
Since that trip was so successful, I again contacted Exotic Journeys to plan another trip in February-March , 1997.
Our itinerary took us to Darjeeling, Sikkim and Bhutan.
For attention to detail and a smooth, worry-free itinerary, I heartily recommend Exotic Journeys, Inc.
Dr Donald Goodman
Pepper Pike, OH.
___________________________________________________
Dear Exotic Journeys,

Hope you got our message about our great trip to India.
We want to go back and have more time. Thanks for all.
Keep us posted on what becomes available.
Thanks again for a wonderful trip.
June Fletcher
with Travel Center Inc.
_________________________________________
Dear Raju / Exotic Journeys,
Barbara and I thoroughly enjoyed ourselves on the trip through Exotic Journeys, and would very much like
to return to India in the future. The colorful sites in all the places we visited were captivating, and the people extraordinarily friendly.

Our tour agents were extremely helpful and well organized. At no time, were we concerned about our itinerary. They handled everything smoothly. We would also like to compliment your organization on the tour guides that were provided to us, especially Aman Chowdhury – Varanasi, Subash Jadhav – Aurangabad, Ajay Singh – Udaipur, Mr. Chandela – Khajuraho and the gentleman in Jodhpur. These individuals were enthusiastic, animated and quite knowledgeable the sites we visited.

We would also like to acknowledge Mr. Suchandran, our driver from Jaipur to Delhi and Agra. He was an absolute gem! Very patient, good driving skills and very funny to talk to. Anyone who gets to have him for a driver would be very lucky. We definitely learned about the 3 things needed for driving in India (good horn, good brakes and good luck) Mr. Suchandran definitely has these 3 things under control.

Thank you again for planning such a lovely trip. I look forward
to returning to India soon.

Cheers,
Ms. Hicks
________________________________________
Hello Tina / Exotic Journeys
I want to thank you for the cordial, friendly, and professional treatment extended to me during my recent trip to India and Nepal.
All the services rendered were totally acceptable. The driver your provided was excellent....a very good driver as well as a very
nice person. The guide in Delhi was top quality...the best in any city I visited.

Best regards and best wishes,
Howard Sutton

_______________________________________
Hello Sharon! Exotic Journeys
I apologize that this thank-you is so belated, but I wanted to tell you how incredible our vacation was and how much we really appreciate all your help -- especially after the fiasco with our passports getting lost.

Hope all is well
Deanna Mari

________________________________________________
Dear Usha / Exotic Journeys
I received the refund check for the unused portion of my Nepal-Delhi flight
last week and I wanted to thank you so much for all of you time and trouble
in making that happen. I hope you are well and that business is
flourishing for you. I often think of our fabulous trip to India -- I will
certainly recommend Exotic Journeys to anyone I know who might be planning
a trip.
Many thanks again,
Barbara
_______________________________________

Mr. Ahmed / Exotic Journeys,
I found India to be endlessly fascinating and I would not hesitate to
recommend Exotic Journeys to anyone.

Thank you for your superb service. It was obvious you took a great deal
of care in planning the trip.

With best regards,
Katherine Peters

_____________________________________________

<![if !supportLineBreakNewLine]>Dear Raju / Exotic Journeys,
I would like to let you know that our group had a perfect vacation in India.
We were met, transferred, toured and very well taken care of the two weeks that we were in India.
I cannot think of anything that you could have done better.
I will be more than happy to recommend you to anyone who wants a wonderful trip.

Shirlee Baughman,
Sierra West Travel
Porterville, CA 93257

_______________________________________________
Dear Raju / Exotic Journeys,
We wish to tell you that our trip to India was a most enjoyable experience and we express our gratitude for your professional guidance.
Most of all we would like to commend Khan (New Delhi) for his thoughtful and skilled handling
of many situations involved in a trip such as ours.
He was pleasant and made us feel safe and looked after at all times.
I would consider him a great asset to your company.
Last but not least, I would like to thank our driver, Anil, for a safe journey over the roads of India.
There was never a doubt to our safety and he was most competent behind the wheel.
Again, let me thank you for a most enjoyable experience.

Van and Corinne Heywood
VanCorHey@aol.com

__________________________________________
Dear Usha / Exotic Journeys,
We are writing you from Delhi - fourteen days into our journey.
We wanted to take a moment to commend you and Exotic Journeys , Inc., for our wonderful family vacation.
We have truly enjoyed the treasures of India - the people, the palaces, the art and of course, the delicious food.
We also want to let you know the superb job Mr. Khan has been doing as a tour manager.
He has made our journey to India very comfortable and pleasant and has been a good and trustworthy companion as well.
We think of him highly and are grateful to him for his kind and knowledgeable services.
We would enthusiastically recommend Exotic Journeys to our friends in New York.

Blair and Mary Brewster
blair@zlink.net

____________________________________________
Dear Sharon / Exotic Journeys,
This note is to thank you for arranging an outstanding tour for my wife, carol and I.
We enjoyed our stay in India and Nepal and were impresses with the efficiency and helpfulness of your companies.
We would particularly like to mention Mr. Basant Sharma, who was exceptional in every way.
We have shared our experiences with others that we know are interested in such a trip and have recommended
Exotic Journeys as a thoroughly professional company.
Thank you, again, for your efforts.

Charles Phleger
Andover, MA 01810

____________________________________________________
<![if !supportEmptyParas]>Dear Exotic Journeys,
This is a note to tell you how pleased we were with our group tour with you.
This was our first trip to India. You made our trip THE BEST EVER!.
Every one in the group commented on your total interest
and attention to every detail. It surely made my job easier.

This kind of personal services is what every travel agent hopes for, but seldom gets.
We are certainly glad that we contacted Exotic Journeys, Inc.
and hope to do more business in the future with your company.

Marilyn Caska
Star Travel
Largo, FL
_____________________________________
Dear Exotic Journeys,
Just a note to tell you that you run a smooth operation.
Every one was there when he was supposed to be.
They were wonderfully cordial, helpful people. We enjoyed every one of them.
They made the trip both interesting and fascinating.
We wanted you to know how much we appreciated your arrangements for us. They were perfect.
Thank you,

Lillian Allen and Carolyn Gray
Pittsburgh, PA
_______________________________________
Dear Exotic Journeys,
Great Job! Thanks!
You went all out and the results are outstanding!
This was our best trip (our third) to Nepal.
Thanks to you. Both of us agree on this.
We are planning another trip for a whole month. Of course we will come to you to arrange our trip!
We thank you so much for making this trip so satisfying.

Karen and Dick Hechler
Chicago, IL
_________________________________________

Dear Raju / Exotic Journeys,
The southern India trip was an outstanding success!.
The tropical setting of Cochin, complete with graceful palm tress and even more graceful fishing nets was delightful,
especially when viewed from the deck of our backwater boat trip.
Nancy and I loved the drive through the lush and green rubber, tea and coffee plantations of the hill country.
The temples of Mahabalipuram, Belure and Halebid were magnificent.
Seeing exquisite carvings of Belure was the highlight of the trip.
All our hotels were marvelous.
We especially enjoyed the Lalitha Mahal Palace, Mysore,
the individual cottage at the wonderful Spice Village in Periyar,
the hilltop Taj Garden retreat at Madurai.
We were always met by knowledgeable and helpful guides and drivers.
Another great trip, raju.
Thank you so much for your help, suggestions and patience with our ever changing itinerary.

Candace Kromer
Pasadena, CA

__________________________________________

Dear Exotic Journeys,
The trip was very rewarding.
The most memorable part of the trip had to be the coordination of your city representatives
and the desire of the local guides to make sure that we came away from the experience with
an understanding of the history and culture of the region.
We had no problem with their English though the speak "Queens English".

It was, overall, one of the most informative and enjoyable trips that we have taken.
And we were very impressed with the coordination that was evidenced throughout the entire journey.
Thank you.

Stephen Prouty
Riverdale, CA.

__________________________________________

Dear Exotic Journeys,
Chris Benson and I wish to thank you profusely for providing us with a wonderful tour and especially the tour people.
All in all, we can't rave enough about your services.
We will gladly tell all our friends and acquaintances about you and hope,
if they go to India, the take advantage of everything Exotic Journeys has to offer.

Ginny Schuette,
Professional Bridge Group,
Riverwoods, IL
____________________________________
Dear Exotic Journeys,
On behalf of Dr Vern Hagen and all the American students from our university who visited India from October 17 to 29, 1996,
I would like to congratulate for doing an excellent job in travel arrangements.
The hotel arrangements every where were super.
We did not realize until we went to India that India has such nice hotels.
The meal arrangements were beyond our expectations.

The tour guides were very cordial, helpful and straight forward.
Everything we heard after we came back was nothing but positive.
All our students have indicated that they will remember this trip for rest of their life.

Once again let me thank you for doing a good job in travel arrangements.
We like your services so much that we are asking you to make our travel arrangements for next trips.

Moin Ansari, Ph.D., FACN,
Chairman, Board of Nutrition
Professor, Physiology / Biochemistry
Palmer C. University, Davenport, IA

___________________________________________________
Dr Vern Hagen: "I was deeply impressed with my trip to India. Travel arrangements were excellent."

Kareen Oosterhardt: "India, a land of beauty, pride and joy, that is reflected through its people."

Rachel Smith: "Indian people were celebration of life that can not be restricted to words."

Terry Greenslade: "Our trip to India was absolutely incredible"

Tina Habbab: "Every one treated us exceptionally well during our visit."

Robin Hollister: " What a trip! I have been back almost a week and I feel like it was all a dream. I can go back there in a heart beat."

Brad Key: "Treasure that would remind us of memories that time could never erase. Perhaps the greatest possessions that this country of India could boast is its people"
__________________________________________
Dear Exotic Journeys,
Thank you for a most memorable trip.
Nancy and I had a wonderful time.
We loved Nepal and Nepalese people.

This trip turned out so well, I'd like to go back in that direction in October.
I am interested in Tibet, Sikkim and Bhutan, Burma, Sri Lanka and wildlife safaris

Thanks again for a marvelous trip.

Candace Kromer,
Pasadena, CA
________________________________________
For tour packages, visit www.exoticjourneys.com and www.ejig.net